FISAC 2017
The Fire Safety Asia Conference 2017 or FiSAC was held from 16 to 17 Nov 2017. A-CERTS is the supporting organisation for this event and the council member past and present were at the Gala Dinner held at the Marriot Hotel.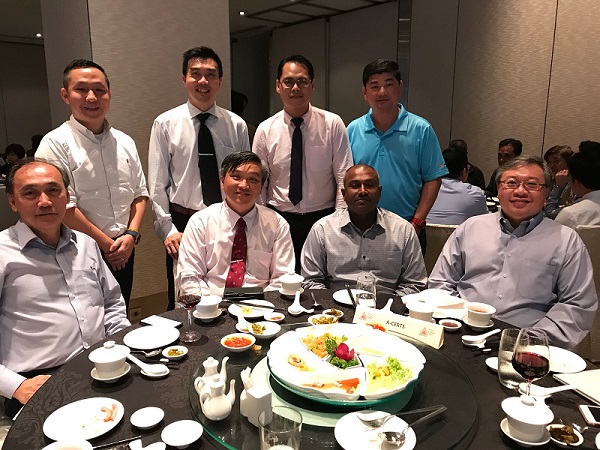 For the record, our member, Roche Singapore Technical Ops Pte Ltd, took the Excellence Award for the 1st NFEC Industrial Fire Safety Award. Our council member, Mr Bernard Lew, collected the award for his company.
What a night it turned out to be for both the international guests and local participants. A-CERTS is proud to be part of this celebration. Look out for more events coming your way for members.
Wishing all members a Happy 2018!
---
MEMBERS' HAPPY HOUR (BOWLING EVENT 2017)
A-CERTS always look to find interesting and new ways to engage our members and professionals in the industry. As such, this year the members were treated to a session of free bowling at the Westwood Bowling Alley on 23rd Aug 2017. The event started off at 6 pm with members streaming in after indulging to a buffet spread.
A total of 20 members turned up for this weekday event. To make the night more interesting, members were grouped into teams of 4-5. They had an informal competition among them. The competition also brought out the Bowling talents in many of the members, while not forgetting learning for some of the first timers as well. No pressure at all for all as it was just for the fun of it. Everyone was a winner that night and members left the place with smiles and laughter on everyone's face. What a night for all who were there.
Do look out for more events coming up in the coming weeks. Join us!
---
MEMBERS' HAPPY HOUR
---
The A-CERTS 6th ANNUAL GENERAL MEETING
The A-CERTS 6th ANNUAL GENERAL MEETING will be taking place on 29 May 2017, from 1830 hrs. to 2100 hrs. at the Furama RiverFront Hotel. This AGM will be reporting the activities of the association in year 2016 and also conducting the Management Council election for the term of 2017-2019.
All members are invited to attend the AGM. This is a close door event exclusively for A-CERTS members (complimentary). Corporate Member are limited to 2 complimentary representatives per membership and the 3rd or more representatives can attend at a cost of $80. Members who had not renewed their membership may renew it immediately so not to miss this great opportunity. 
Please RSVP your AGM attendance with Ms Hasnida before 20 May 2017.
Hope to see you at the event.
---
A-CERTS SUPPORTS ITECW WORKPLACE SAFETY
The 4th ITE Workplace Safety & Health Seminar was successfully conducted on 19 April 2017 with 2 guest speakers from the Ministry of Manpower and Cushman & Wakefield. This year, the event was specially graced by Er. Ho Siong Hin, Commissioner of WSH, Ministry of Manpower who presented 700 WSH Qualification Passes and Certificates to about 520 graduating students who had attained competency in the 10 WSH Training Courses under the MOM-ITE Direct Recognition Scheme.

President A-CERTS, Mr Dennis Ng was present to show support for this event.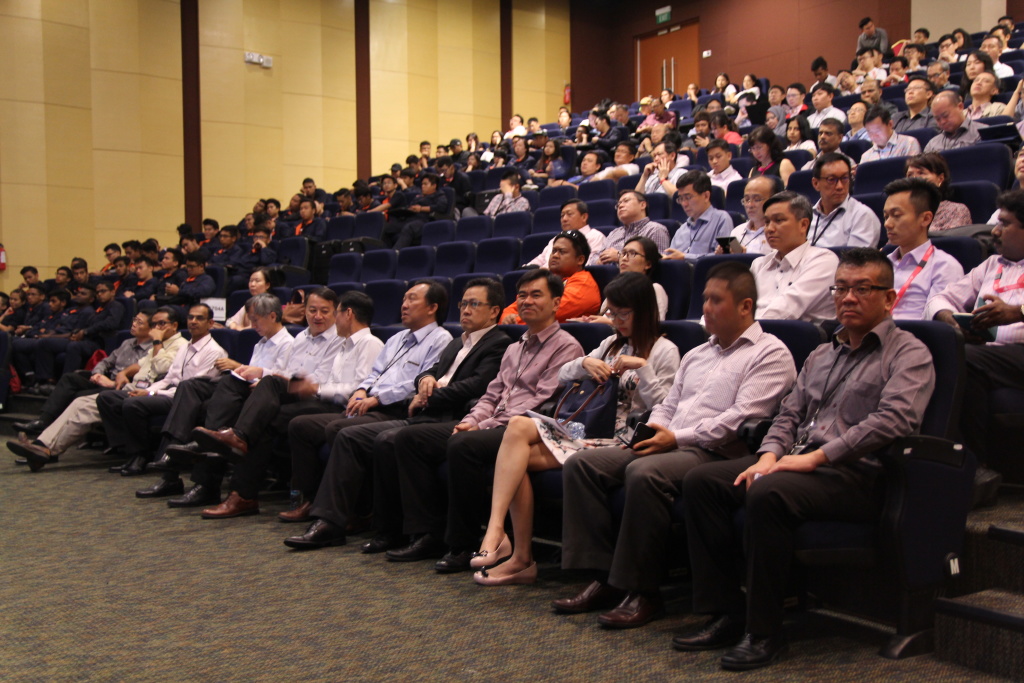 This annual event is part of ITECW HSEQ Centre's initiative to promote workplace safety and health in workplace, and more importantly, the direct recognition of WSH training courses allow ITE to inculcate the importance of WSH in the early phase of students' learning journey so that they can be more work-ready for the real-world. 
---
CERT CONNECT 2017
Life-minded members came together on 7 April 2017 to attend the much anticipated closed-door session for CERT Connect 2017 - exclusively organised for A-CERTS members, where we shared an in-sight of emergency actions and response of the recent "Tank fire and Terrorist threat mitigation" held at Park Royal Hotel at the Kitchener Road. 

Encouraged by the intense engagement between participants and speakers, President of A-CERTS Mr Dennis Ng highlighted in his welcome address, the event was over-subscribed and well supported by members. 
On behalf of the organising committee and President of A-CERTS Mr Dennis Ng, we would like to express our gratitude towards the speakers CPT Clara Toh, Commander Banyan Fire Station and Dr Jolene Jerard, Research Fellow, Manager(Capacity Building), RSIS for the fruitful sharing and presentation. Special appreciation to Commander 1st SCDF Division, COL Alan Chow and Head Operations 1st SCDF Division LTC Tan Teck Meng for their presence to grace this event and their active engagement with the participants.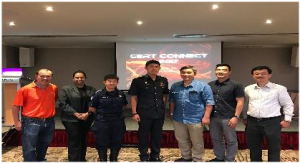 Next UP! members are encouraged to look out for the upcoming event organized by A-CERTS committee - CERT Seminar and AGM 2017. 
---
INTRODUCING CERT CONNECT 2017
Sharing Session on Tank Fire and Terrorist Threat Mitigation

| | | |
| --- | --- | --- |
| When | : | 7th April 2017 from 1330 to 1630 hrs |
| Where | : | Parkroyal Hotel at Kitchener Road |
| CPD | : | 5 Points |
Program
1:30 pm
-
Registration
2:00 pm
-
Welcome Address Mr. Dennis Ng A-CERTS President
2:15 pm
-
Tank Fire: Case Study and Lesson Learnt
CPT Clara Toh Commander
Banyan Fire Station, SCDF
2:40 pm
-
Question & Answer Session
3:00 pm
-
Networking Afternoon Tea Break
3:30 pm
-
Terror Threats & Mitigation - Knowing Your Employee (Insider Threat)
Dr. Jolene Jerard
Research Fellow; Manager (Capacity Building),
S. Rajaratnam School of International Studies (RSIS)
4:15 pm
-
Question & Answer Session
4:30 pm
-
Closing Address & Presentation of Appreciation Plaque

Exclusively for A-CERTS member Only
If you have not received any invitation or need further enquiry: Write to Ms. Hasnida at email: secretariat2@acerts.org.sg
---
A-CERTS SUPPORTS NFEC EVENTS

On 31 Oct 2016 A-CERTS council member including the President, Mr Dennis Ng, supported NFEC 30th Anniversary at the Furama Riverfront Hotel. The event marks another milestone for NFEC and A-CERTS is proud to be part of the celebration. We look forward to more collaboration with NFEC in the near future.
---
MEMBERS HAPPY HOUR - 30 SEPTEMBER 2016 @ SHUFFLE BISTRO BAR
More than 30 like-minded A-CERTS members gathered together and enjoyed another session of happy hour held at the Shuffle Bistro Bar, located at Clarke Quay. Members were treated with a wide spread of western cuisine together with awesome 'Live' acoustic music. 
This event serves as an informal and relaxing ambient to renew friendships and catch up with friends across the various industries. 
This platform also provided some update to our guests and members of A-CERTS to find out more about the upcoming events and activities happening in our association. Every one present that night had a great time and we look forward to more such events in the near future look out for more information in our ACERTS website.
---
REFRESHER COURSE:
Industrial Fire Fighting Refresher Training (1 Day)

We are pleased to offer 1 day refresher course "Industrial Fire Fighting Refresher Training" on 16 Nov 2016, after 2 years hiatus. Interested parties may visit http://acertse58.eventbrite.sg for overview and registration of the training.
---
 A-CERTS WAS HONORED TO BE PART OF THIS EVENT

'NTU-CIVIL DEFENCE LIONHEARTER CLUB' was launched  on Thursday, 11 August 2016, 2:30pm at Nanyang Technological University, Pavilion @ Tan Chin Tuan Lecture Theatre. This event was held in conjunction with NTU's Safety and Security Campaign.

This was a monumental event as NTU is the first university, and the 9th institution to join the CD Lionhearter family. The event was graced by Associate Professional Ho Peng Kee, Chairman of the Home Team Volunteer Network, Comr Eric Yap, and President A-CERTS Mr Dennis Ng.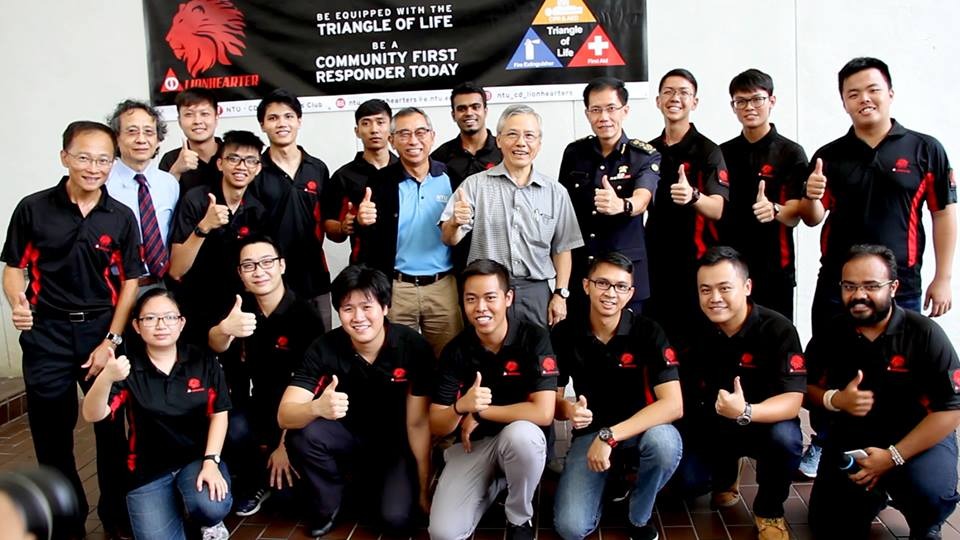 ---
Thank you to all delegates, exhibitors and supporting organisations. The 5th national company emergency response teams seminar, CERT Seminar 2016, witnessed a total turnout of over 700 emergency response professionals. The presentations by the speakers are available now for download. Please also visit our gallery for some of the beautiful photos taken at the seminar. We look forward to welcoming you again in 2017.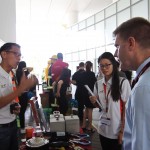 *The content of the video is the sole property of A-CERTS. No part or in full shall the production be used without written permission from A-CERTS.
---
SINGAPORE CIVIL DEFENCE FORCE STRATEGIC PARTNER AWARD 2015

A-CERTS received the Singapore Civil Defence Force (SCDF) Strategic Partner Award 2015. This is the 3rd time the award was given to A-CERTS, the previous award were in 2013 and 2014. This award was for the recognition of the strong bond established between SCDF and A-CERTS in the realm of emergency preparedness and training. The award ceremony was held on 14 Nov 2015 at the Home Team Festival 2015 at Singapore Expo.
Mr Dennis Ng, President, A-CERTS received the award from SCDF Comr Eric Yap.
---
SIGNING COLLECTIVE LETTER OF COLLABORATION WITH INSTITUTE OF TECHNICAL EDUCATION

In support of Singapore's technical and vocational training, the Association of Company Emergency Response Teams, Singapore (A-CERTS), Fire Safety Managers' Association of Singapore (FSMAS), and the Institution of Fire Engineers, Singapore (IFES) have signed a collective Letter of Collaboration (LOC) with the Institute of Technical Education (ITE) on 17 Sep 2015. The signing ceremony was held in conjunction with ITE's annual Workplace Safety & Health (WSH) Seminar, which mark yet another milestone in the shared journey towards a safer workplaces for all. This collective agreement will see collaborative partnership between A-CERTS, FSMAS, IFES and ITE in the areas of Fire Safety, Fire Protection, Emergency Response, Crisis Management and Risk Assessment through internship attachments, joint projects, cross training opportunities, study awards and book prizes for ITE students and facilitate the transfer of knowledge and expertise between the staff and members.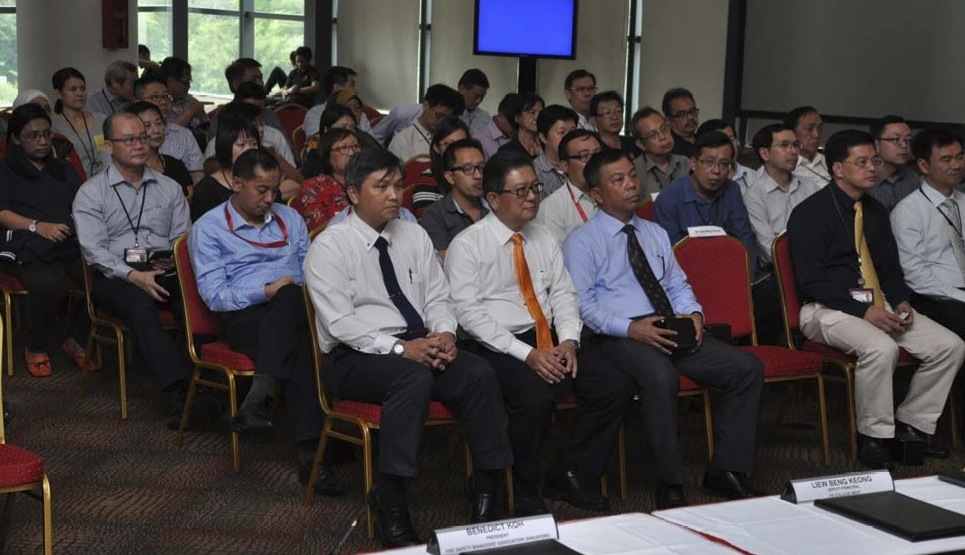 ---
MEMBERS SOCIAL NETWORKING EVENT: A-CERTS HAPPY HOURS

A get together, happy hours session was organized by the A-CERTS committee on 31 July 2015 at SPRUCE @ Bukit Timah, Old Fire Station.  Half yearly, A-CERTS treats its members to a special evening during which in this occasion, they can meet fellow members while enjoying endless flow of cool chill beer and finger food.  It was another great session our members, corporate partners and invited guest to network, socialize and simply chill out on a lovely Friday evening. Joining us for the first time was Mr Ong Qian Long, Senior Fire and Security Officer from Singapore Refining Company (SRC) was delighted on the invitation and enjoyed the session with apparently "long-lost" friends from similar industry while feasting on the sumptuous food.
Gracing the event was Mr Dennis Ng, President of A-CERTS who commented that the occasion is a great opportunity for members to know each other in a relaxing ambience and to receive an update on activities from Joint Committee Members. It is also an opportunity for the Committee to obtain valuable members' feedback on events organized by them and on suggestions for future activities to meet the needs and requirement of members in the growing industries. In retrospect, these networking events was well-received by members, corporate partners and invited guest where we network, socialize and exchange valuable information.
Through these platforms of interaction, networking and feedback across all industries professionals, A-CERTS strived to promote continual development, professionalism and excellence in the field of Emergency Response & Crisis Management. A-CERTS will be working with the relevant Government Agencies in the development and enhancement of programs and standards relating to emergency response. It will also create a platform to share valuable information & professional development opportunities for members.
---
NEPAL EARTHQUAKE DONATION
A-CERTS does its part for charity recently and was one of 7 organisations to contribute $3000 in the Nepal Earthquake. This was featured in the latest HTNS magazine, the Frontline. The article with the title "PEDALLING FOR A CAUSE" can be found on page 24 of the magazine.

To read more about the article, please click here.


---
A-CERTS NEW COURSES 2015

We are pleased to announce that A-CERTS will be launching 2 new Emergency Response Training courses to cater to the industry's need. WSQ Respond to Fire Incident in Workplace 1 Day (first class on 30 July 2015) WSQ Respond to Fire Emergency in Building 2 Days (first class on 18 - 19 Aug 2015) Please click here for trainings dates
---
SIGNING OF MOU WITH FSMAS  

In its desire to expand its strategic alliance within the realm of emergency preparedness, A-CERTS signed an MOU with the Fire Safety Manager Association of Singapore (FSMAS). This occasion was held at Sheraton Towers in-conjunction with celebration of the silver jubilee of the FSMAS. The MOU was signed by association's Presidents Mr. Benendict Koh (FSMAS) and Koh Soon Chuang (A-CERTS). The signing was witnessed by the Commissioner, SCDF who was the guest of honour for the evening. The MOU signified the sharing of knowledge and training for emergency preparedness.
---
SCDF STRATEGIC PARTNER AWARD 2014
Once again, A-CERTS was conferred with  the Strategic Partner Award 2014. The award was received by our  President Koh Soon Chuang on 13 September 2014. This award was for the recognition of the strong bond established between SCDF and A-CERTS in the realm of emergency preparedness  and training. A-CERTS  is proud to have received this award in its 2nd year running and this show its excellent working relationship with the SCDF.
---
SOFT OPENING OF BATAM SAFETY TRAINING CENTRE

The Batam Safety Training Centre (BSTC) had its soft opening on 26 September 2014. In their opening speeches the Chairman and CEO proudly announced that their sea survival training programs have obtained OPITO  accreditation.  In their speeches they also thanked their strategic partners one of whom is A-CERTS. The official opening was followed by viewing of the facilities and demonstrations on helicopter sea landing and rescue; height rescue and fire- fighting. A-CERTS was represented by Mr I M Raj  and Mr Jeevan.