Announcement: CERT Connect 2022
(27 Oct 2022, Thursday)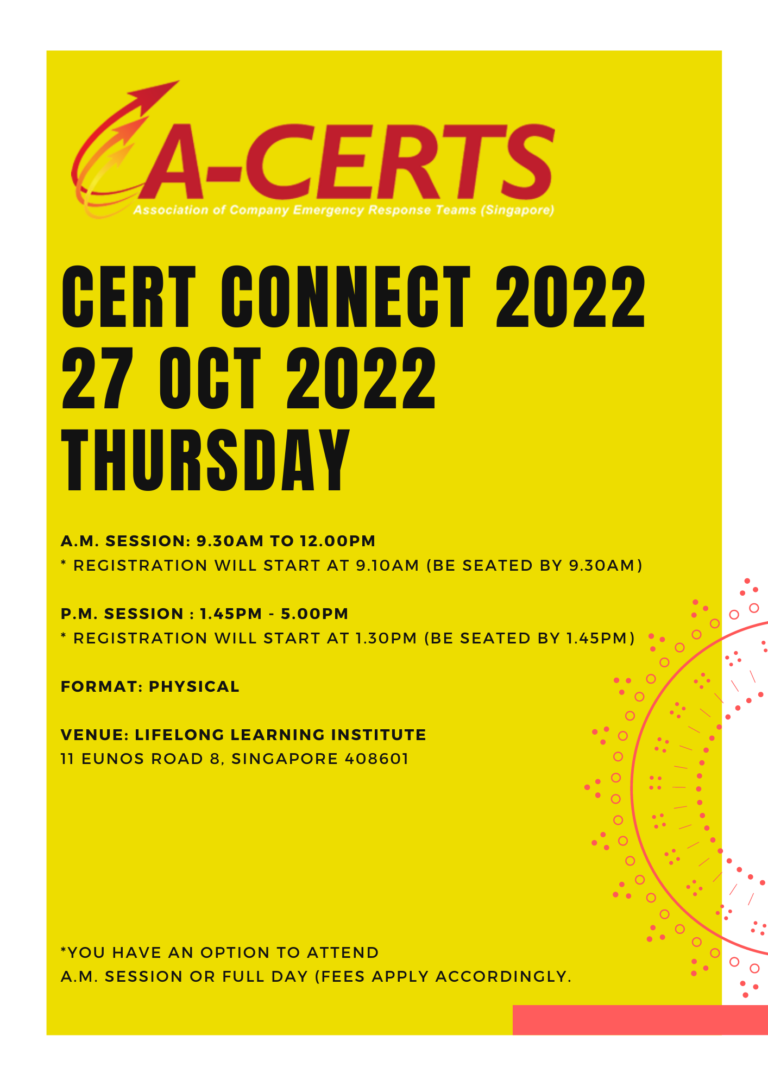 CERT Connect 2022 is finally returning after a two-year hiatus. We are pleased to announce our next event, CERT Connect 2022. A-CERTS members will be receiving our email invitation on how to register for this event. Please watch this space for any updates.
EVENT INFORMATION
Event: CERT Connect 2022
27 October 2022, Thursday
Time: 9.30am to 5.00pm
Venue: Lifelong Learning Institute
Format: Physical Meeting
Fire Safety Manager CPD Points: 5 FSM-CPD Points. It is only applicable to full day attendees.
Workplace Safety & Health Officer SDU Points: 5 SDU Points. It is only applicable to full day attendees.
Fees: Fees apply accordingly.
Please click here to download the brochure.
Fire Safety Asia Conference & Exhibition 2022 (16-18 Nov 2022)
We are happy to be named the strategic partner of FiSAC 2022.
The Fire Safety Asia Conference & Exhibition 2022 will be held from 16 to 18 November 2022 at Singapore Expo, Max Atria. 
The 2 day conference and 1 day of technical workshop event is organised jointly by Singapore Civil Defence Force (SCDF) & National Fire & Civil Emergency Preparedness Council (NFEC). The theme is Rethink | Redefine | Redesign, A BREAKTHROUGH in fire safety, sustainability and emergency response. More information on FiSAC 2022 can be found at https://fisac.com.sg/.
A-CERTS was invited to run a half-day technical workshop, along with other strategic partners of ours. More updates along the way. 
You may download the brochure here.
Post Event: Signing of MOU between A-CERTS & FSMAS
A new milestone was reached. A Memorandum of Understanding was signed between A-CERTS and FSMAS, at A-CERTS appreciation dinner, which took place on 26 Aug 2022, Friday, 7.00 pm – 9.00 pm at The Malayan Council (Winstedt Outlet).
The signing of the MOU presents greater opportunities in the future for A-CERTS to explore ways to enhance the interests of our members with our strategic partner.
Post Event: A-CERTS' 11th Annual General Meeting
A-CERTS held its Annual General Meeting (AGM) on 27th May 2022, from 7.00pm to 9.00pm at Holiday Inn® Singapore Orchard City Centre. We thank our esteemed members who had attended the session, despite their busy schedule. It was a good time meeting up with them after two years or so of virtual events. 
NFEC Appreciation Lunch (6 May 2022)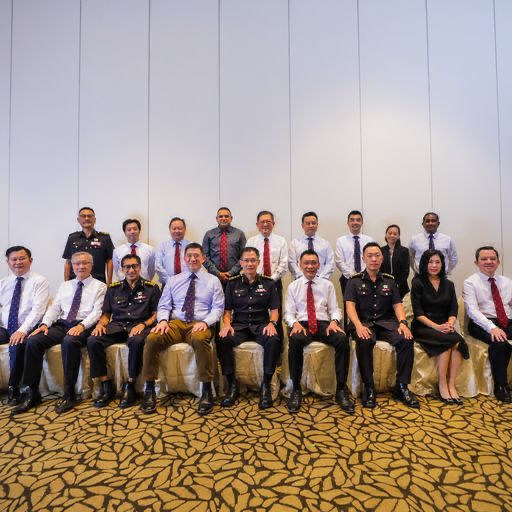 Notice: Resumption of Physical Fire Drills
In tandem with the easing of community SMMs, SCDF will allow the resumption of physical fire drills for premises with effect from 1 April 2022 onwards. FSMs and building owners will be allowed to carry out physical fire drills, in compliance with the prevailing SMM. As employees are gradually returning to workplaces, it is important for physical fire drills to resume, to ensure that the building occupants continue to be familiar with the evacuation procedures during an emergency.
SCDF will announce the resumption of physical fire drills to the industry via the following channels:
a) Email blast to FSMs and building owners
b) Update on SCDF website
We are excited to announce to you about our annual event –  CERT Webinar 2022, which will happen on 25th March 2022, at 1.30pm-5.10pm.
Key Information:
Date: 25 March 2022, Friday
Time:  1.30pm to 5.10pm
(Participants are to log into the Webinar at 1.00pm prior to the commencement of the Webinar)
Webinar Fees: Public Rate of S$40.00 (all inclusive) for registration via Eventbrite
Free for A-CERTS Individual Member and the first 2 seats for Corporate Members. S$20.00* for third or more seats for Corporate Members.
* A-CERTS member must be holding a valid membership for current year.
* To be eligible for A-CERTS member rate, registration must be done through your HR/L&D department. Special registration link will be sent to company representative of members. Please look out for the email sent to members.
Accreditation: 10 FSM-CPD points for FSM, with conditions. Refer to Eventbrite registration.
SDU points: 3 SDU Points (For WSHO)
PDU points: 3 PDU Points (For PE)
Registration: https://certwebinar2022.eventbrite.sg (Registration will open at 9.00am on 24 January 2022 and close at 12.00am on 21st Mar 2022, or earlier if max capacity is reached. )
There is no corporate registration. Manual registration will NOT be accepted.
ZOOM meeting links will be emailed immediately after your registration (with completed payment).

Responders' and Partners' Appreciation Event
The Responders' and Partners' Appreciation Event was held on 21st Jan 2022. A-CERTS was one of the recipients, represented by President of A-CERTS, Bernard Lew.