A-CERTS signs MOU with FSMAS on FSMAS' Annual Members' Networking Night 2018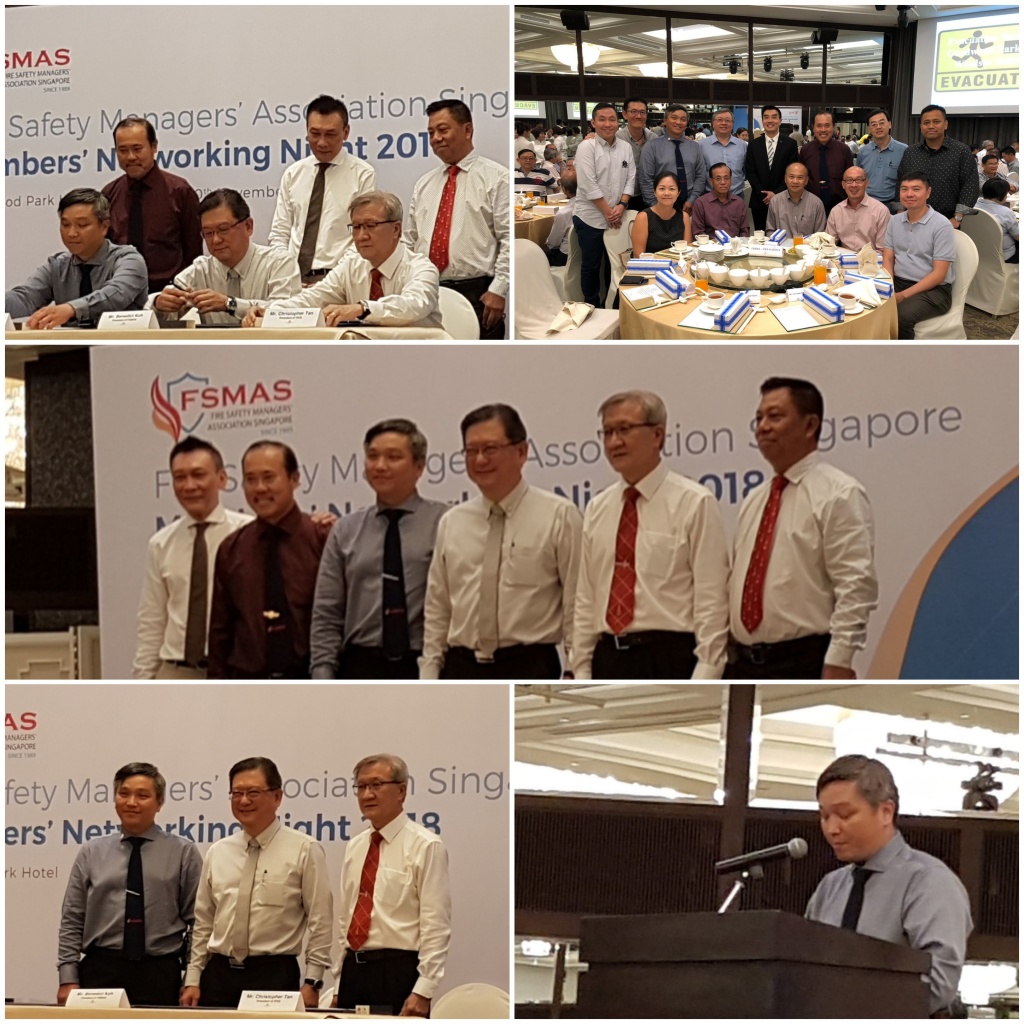 Members' event : Hai Bin Prawning (HomeTeamNS @ Sembawang)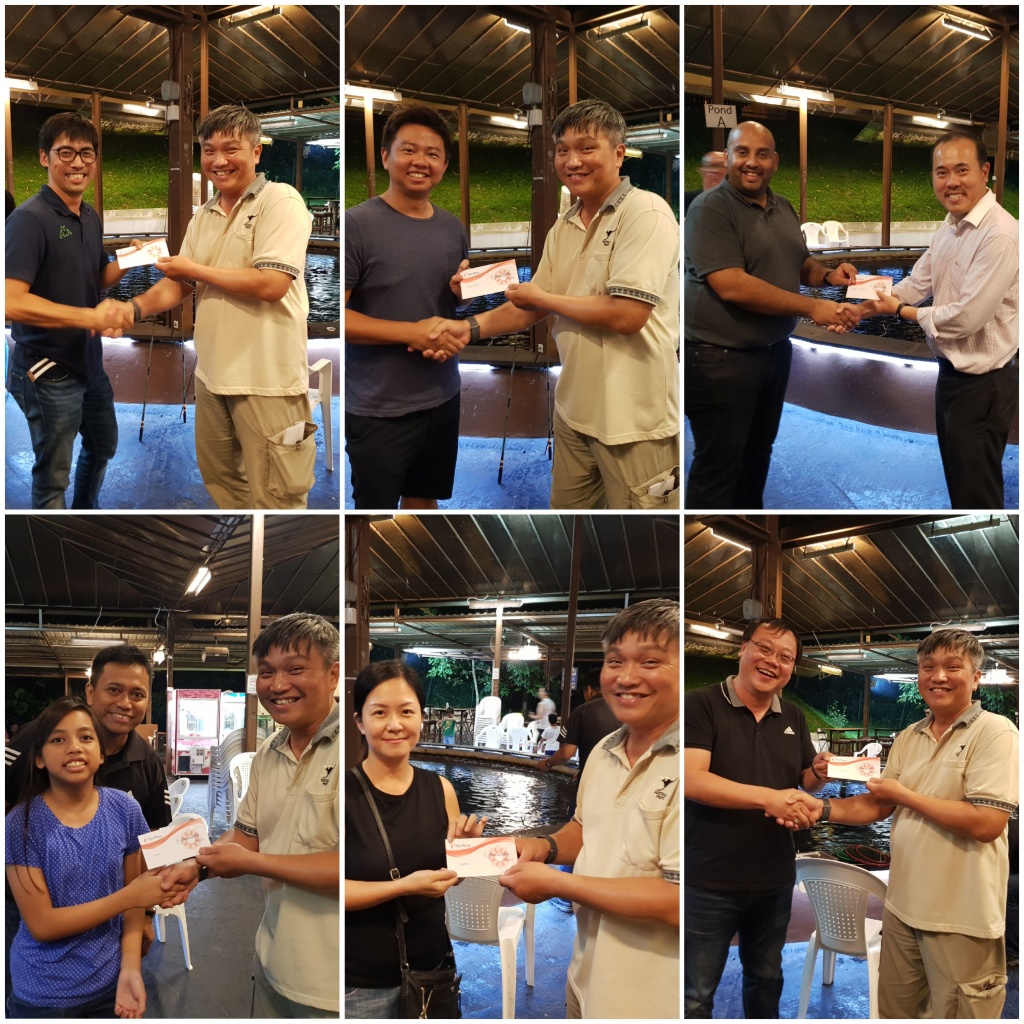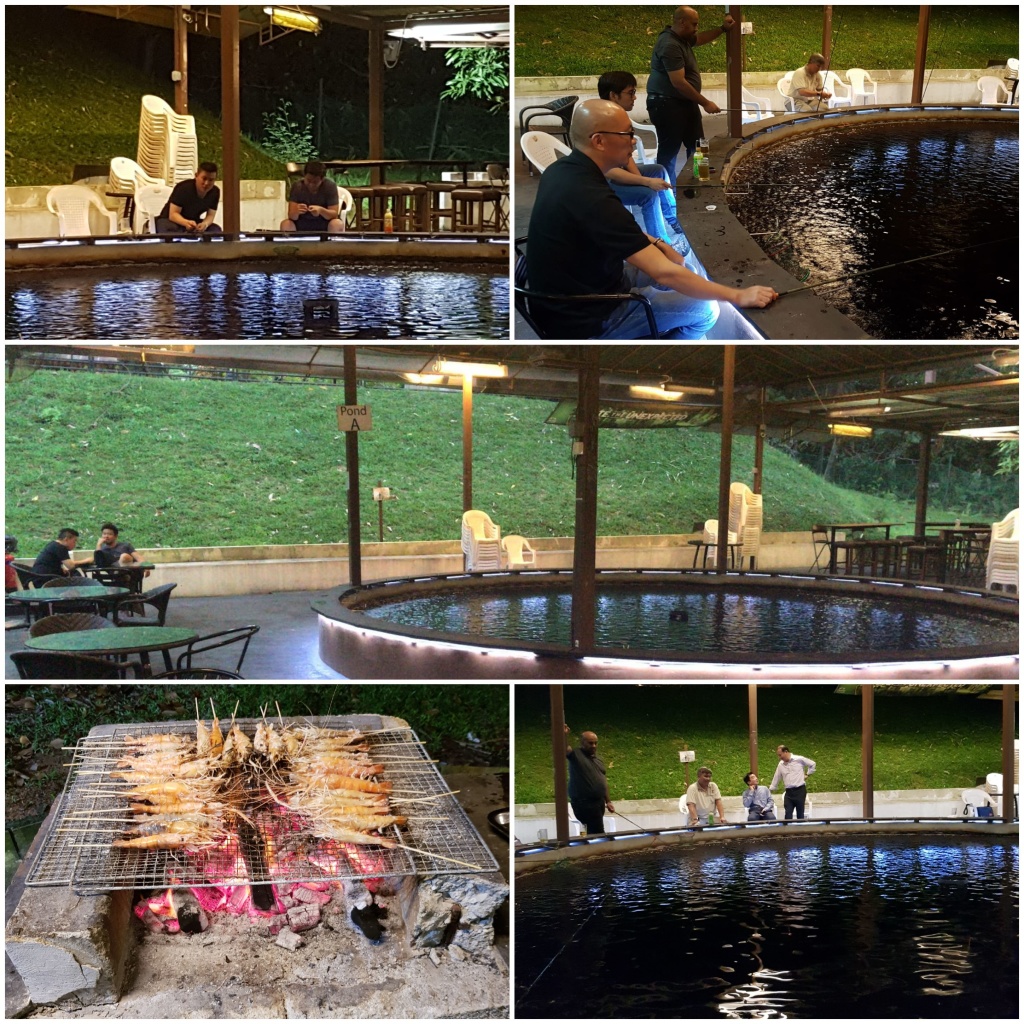 We held our Members' Happy Hour on 9th Nov 2018, Friday evening. It was a good time to catch up, have dinner, and do some prawning. All in all, whether it was a first time, or not, for members who attended, it was good time, good food, delicious prawns with lucky draw prizes to be won.
NFEC Appreciation Nite and Awards Ceremony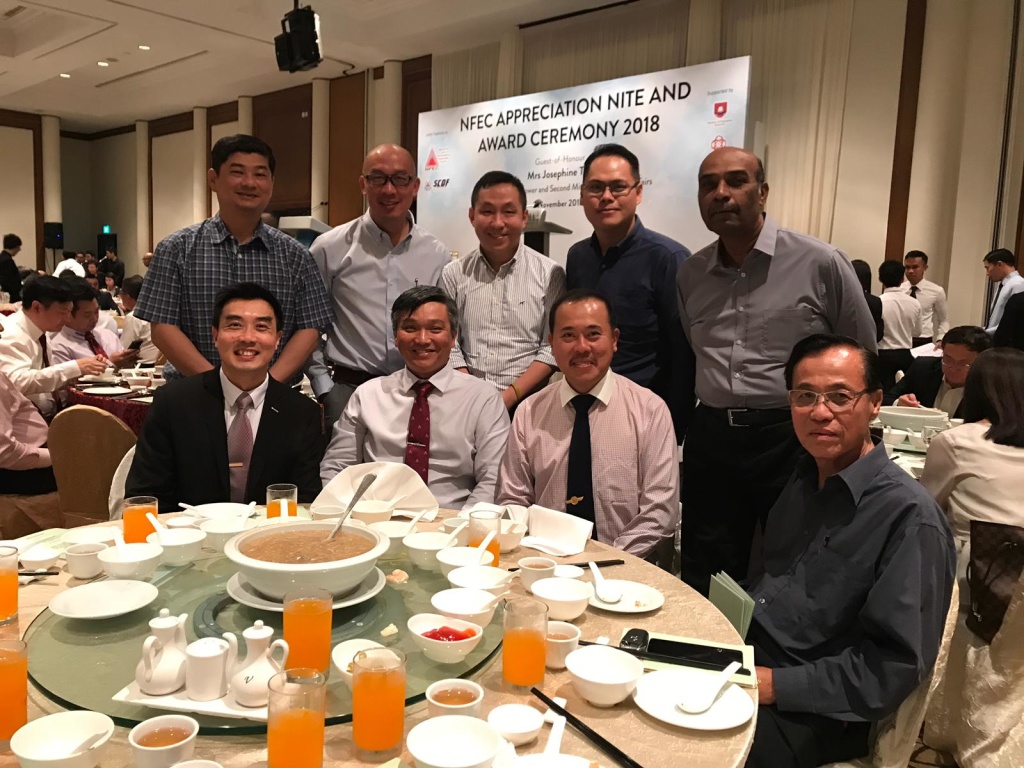 Present and Ex-Council Members of A-CERTS gathered at the recent NFEC Appreciation Nite and Awards Ceremony, held on 2nd Nov 2018, at Furama Riverfront Hotel.
Members Happy Hour, at Hai Bin Prawning @ Sembawang on 9 November 2018.
>> EVENT INFORMATION
Event: Members Happy Hour, Hai Bin Prawning @ Sembawang
Date: 9 November 2018, Friday
Time: 6.30pm to 9.30pm
Venue: Sembawang HomeTeamNS @ Sembawang
Address: 301 Canberra Road #01-08, Singapore 759774
Please contact admin @ acerts.org.sg for further information.
NSCS CONFERENCE (TITLE: SAFETY FOR SGSECURE IN WORKPLACES)
We are pleased to share that A-CERTS is a supporting organisation for National Safety Council of Singapore (NSCS) upcoming conference, Safety for SGSecure in Workplaces. A-CERTS members are entitled to discounted rate to this event.
EVENT INFORMATION
Event: NSCS Conference, Safety for SGSecure in Workplaces
Date: 22 October 2018, Monday
Venue: Lifelong Learning Institute
Address: 11 Eunos Road 8, Singapore 408601
Fees:$250 (Nett); $200 (Nett) – for SISO, FSMAS & A-CERTS Members
WSHO: 7 SDU
FSM: 3 CPD

Topics:
1) 2008 Mumbai Attack – Lessons from a Survivor (Speaker: To Be Advised)
2) Securing our Safety through Good Infrastructure Design (Speaker: Mr Ho Thim Seng)
3) SGSecure Transformation for Safety at Workplaces (Mr Jeffrey Seah)
4) Managing Fires and Explosions within Buildings (Mr Greg Jakubowski)
5) Managing Fires in a Terrorist Incident at Workplaces (Mr Greg Jakubowski)
6) Managing Active Shooters in Workplaces (Mr Greg Jakubowski)
More details about this event is available here. Please contact training @ nscs.wsh.sg for further clarifications, if any.
We are pleased to announce our next event, CERT Connect 2018, themed "CERT Readiness and SGSecure in Industries". A-CERTS members will be receiving our email invitation on how to register for this event.
EVENT INFORMATION
Event: CERT CONNECT 2018
Date: 30 August 2018, Thursday
Venue: Suntec Singapore International Convention and Exhibition Centre
Address: 1 Raffles Boulevard, Suntec City, 039593
Fees: Free for A-CERTS members
Please click here to download the brochure.
NFEC CHARITY PREMIERE – 11 JULY 2018
What a night it was when 4 council members, 28 A-CERTS members & partners played their part in charity by participating in the NFEC Charity Premiere starring Dwayne Johnson, Neve Campell and Ng Chin Han in the movie, "Skyscraper". This was in support for NFEC, our strategic partner, and SCDF.
Present at the Premiere was Guest of Honor, Mr Murali Pillai, Member of Parliament (Bukit Batok SMC), Deputy Chairperson, GPC for Home Affairs and Law. Comr Eric Yap and celebrities like Jack Neo, Bobby Tonelli, and Allan Wu, were also there to lend support to this charity event. It was a great night well spent by all and we look forward to seeing members in the coming event, CERT Connect in Aug 2018.
Event: OS+H Asia 2018 | The Occupational Safety+Health Exhibition for Asia
Date: 29 to 31 August 2018
Venue: Suntec Singapore
Please click link to download brochure.
POST EVENT UPDATE: A-CERTS 7th ANNUAL GENERAL MEETING – 18 MAY 2018
The A-CERTS 7th Annual General Meeting was held on 18 May 2018, from 1830 hrs to 2100 hrs at HomeTeamNS, JOM-Balestier. 33 members attended this year's meeting, although there was a heavy downpour earlier in the evening, it did not dampen the spirit of members in any way.
The program started just after 7pm and the Honorary Secretary, Mr Bernard Lew, welcomed all members and invited President, Mr Dennis Ng, to give the opening address.
The meeting was briefed on what had happened in the previous term and members were also given a glimpse of what is to follow in this new term.
Once the formal program is over, all members were invited to tug in for the sumptuous dinner catered for the evening.
A-CERTS 7th ANNUAL GENERAL MEETING ON 18 MAY 2018

We are happy to announce that our AGM will take place with the below details:
Date: 18 May 2018, Friday
Time: 1830 hrs – 2100 hrs
Venue: HomeTeamNS JOM-Balestier, 31 Ah Hood Road, 329979
Attire: Office Attire or smart casual
Dinner will be provided after the AGM for members to interact and networking. All members are invited to attend the AGM. This is a closed door event exclusively for A-CERTS members.
Please kindly RSVP your attendance before 4 May 2018, with Administrator via email at admin @ acerts.org.sg.
A-CERTS 6TH CERT SEMINAR 2018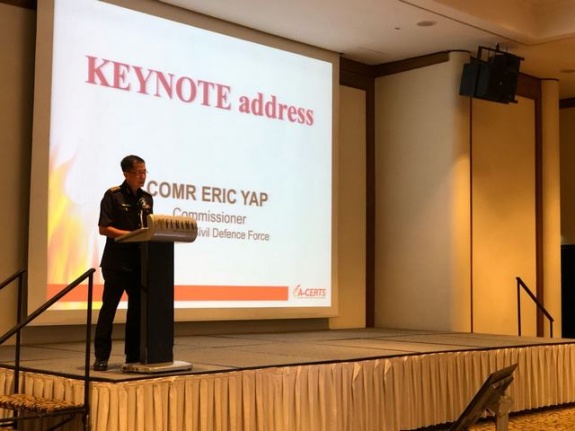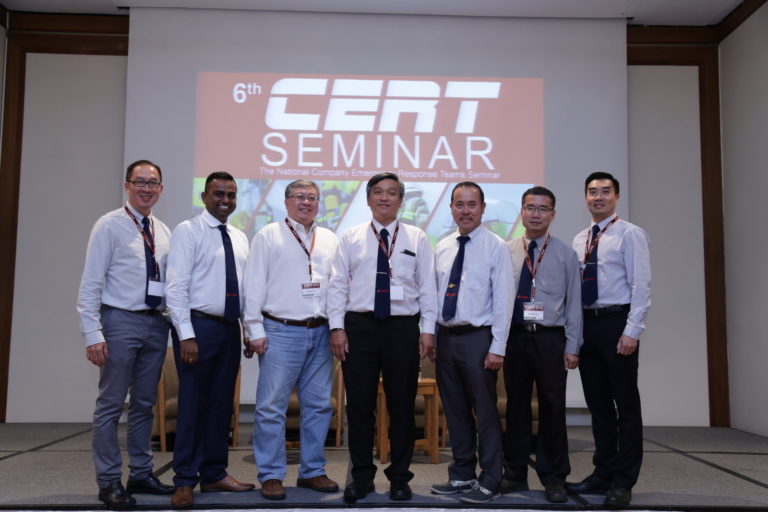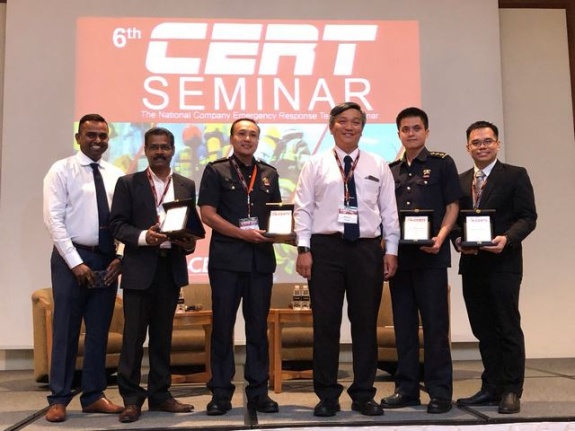 The 6th National Company Emergency Response Team (CERT) Seminar 2018 was held on 29th March 2018 at Furama Riverfront Hotel. This seminar is an annual signature event, organized by A-CERTS, and was well attended by 400 CERT members and fire safety professionals from the various industries. This year's theme is "Dynamics of Emergency Responders' Frontier", which explores how the company emergency responders could deal with the constantly evolving risks, challenges and threats.

In attendance were distinguished VIPs and Guests from the various private sector and government agencies. We were honored to have the presence of Commissioner Eric Yap, Commisisoner SCDF. He delivered the keynote address at the seminar and stressed on the importance of having well trained CERTs to provide timely intervention during emergencies so as to minimise life loss, casualties, damages to property and business disruption. This was clearly demonstrated in recent oil storage tank fire at Pulau Busing, where the CERT members commenced exposure protection operations before the arrival of the SCDF. They also worked tirelessly hand-in-hand with SCDF Emergency Responders throughout the firefighting operation. The raging fire was well mitigated within 6 hours with not a single casualty. He had also mentioned SCDF's Vision of Building a Nation of Lifesavers by Year 2025.
During the seminar, a total of 7 presentations and 2 panel discussions were delivered by distinguished local and overseas speakers from various sectors. We applaud all speakers, distinguished guests, delegates for making CERT Seminar a successful event.
The seminar was supported by SCDF, SISO, WSH Council, IFE, FSMAS, NFEC and SLP.
The next upcoming event will be AGM 2018 in May 2018.
*The content above remains the sole property of A-CERTS. No part or in full shall the content be used without written permission from A-CERTS.