Notice: Resumption of Training
Training had resumed with effect from 26th Aug 2020.
"Beyond the Pandemic, Business Continuity Management Considerations for Emergency Personnel" Webinar Notice

We are pleased to inform that BCM Institute is organising a webinar titled "Beyond the Pandemic, Business Continuity Management Considerations for Emergency Personnel". This webinar, supported by A-CERTS, sets to explore how the emergency response has adapted, developed, and evolved aligning to business continuity, in response to the COVID-19 pandemic.
Some of the points covered during this webinar include:
The integration of Business Continuity for Emergency Response personnel both during and after COVID-19
The development of Emergency Response in light of COVID-19 and moving towards the "New Normal"
New vulnerabilities for Emergency Response during COVID-19
This webinar is free for active members of BCM Institute and A-CERTS only. 
Please register for this event, with BCM Institute, via the link here. A-CERTS members need to click the last button highlighted as "Exclusively for A-CERTS" to register.
Date: 17 Sep 2020, Thursday
Time: 3PM – 4PM
Location: ZOOM meeting

There is 1 SDU point (for WSHO) accredited for this webinar. All participants are required to show your faces at the ZOOM meeting at the beginning of the webinar so the organiser, BCM Institute, can take a screenshot of you as proof of your attendance. Members will also need to display their full name throughout the seminar.

Please contact the organiser, BCM Institute, directly for any queries.
Post Event: A-CERTS' 9th Annual General Meeting
A-CERTS had successfully held its Annual General Meeting (AGM) on 30 July 2020, virtually.
On behalf of the Management Council, thank you to our Strategic Partners and A-CERTS members for your support.
Notice of A-CERTS' 9th Annual General Meeting (Virtual)
A-CERTS will hold its Annual General Meeting (AGM) on 30 July 2020, from 3pm to 4pm. It will be held virtually, using the Zoom video-conferencing platform, due to the current circuit-breaker restrictions. The arrangements for the virtual AGM are in accordance with the  COVID-19 (Temporary Measures) (Alternative Arrangements for Meetings for Registered Societies) Order 2020.
The AGM is a members-only event. If any A-CERTS member had not received an email with the Notice of the AGM, they should contact us.
Please refer to the Notice of the 9th Annual General Meeting, with the agenda and details of the meeting.
The details on how you can register and join the virtual AGM are in the Notice. You need to register before 23rd July 2020 to attend the meeting.
Precautionary Measures for Training
In response to the local COVID-19 situation, A-CERTS will take the following measures for our trainees taking part in our training.
o    conduct temperature screening of all participants twice a day, once in the morning, and once in the afternoon. Anyone with a temperature exceeding 37.5 C will not be permitted to take part in the training.
o    All participants are required to complete a health and travel declaration before attending the training.
o    Social distancing of participants in the classroom.
o    Participants are seated separately in individual seats.
o    For RFEB training, there is no sharing of breathing apparatus (BA). The participants will wipe with alcohol swap before and after the BA use.
o    Hand sanitiser is also provided to the participants.
o    Scan QR Code for Safe Entry
o    Participants are required to wear mask at all times.
o    Participants are also encouraged to download the TraceTogether app.
o    Practise good personal hygiene, washing their hands frequently with soap.
o    See a doctor if sick, and stay home.
Notice: Postponement of CERT Seminar 2020
Thank you for showing interest in participating CERT Seminar 2020. However, in view of the 2019 Novel Coronavirus (2019-nCoV) situation, we are acting on the precautionary measures from the authorities to defer this event. The CERT Seminar 2020 will be postponed till further notice. Registered participants who wish to withdraw your registration, you may submit your request to seminar @ acerts.org.sg. We will keep you posted on further updates at https://www.acerts.org.sg.
We sincerely apologise for any inconvenience this may cause, and we look forward to your participation in the future.
Thank you!
myResponder application by SCDF
In Singapore, many of the emergency cases SCDF responds to could be quickly attended to by CFRs even before SCDF's arrival. More than 2,500 people suffer from Out-of-Hospital Cardiac Arrest (OHCA), with a survival rate of just 5%, which could be improved by simple medical intervention within the first few critical minutes. At the same time, there are more than 1,000 minor fires (such as rubbish chute/bin fire) that could easily be extinguished using publicly-available means.
As CERTs are trained to mitigate fire emergencies and also in first aid, CPR-AED procedures, A-CERTS urges the CERT community to download the myResponder app and registering as myResponders, if you have not done so.
With your support and with more CFRs coming on board on SCDF myResponder app, more lives could be saved as the chances of survival of a cardiac arrest patient would be increased by two to three-fold should CPR be started in those first few valuable minutes.
Download myResponder on your mobile phone now.
CERT SEMINAR 2020 IS PROUDLY SUPPORTED BY :
Singapore Civil Defence Force (SCDF)
Fire Safety Managers' Association (FSMAS)
Institution of Fire Engineers (Singapore) (IFE)
National Fire and Civil Emergency Preparedness Council (NFEC)
Society of Loss Prevention in the Process Industries (SLP)
Association of Property and Facility Managers (APFM)
Orchard Road Business Association (ORBA)
Singapore Institution Of Safety Officers (SISO)
ASIS International (Singapore Chapter)
Singapore Rope Access Association (SRAA)
Post Event Update: NFEC Charity Film Premier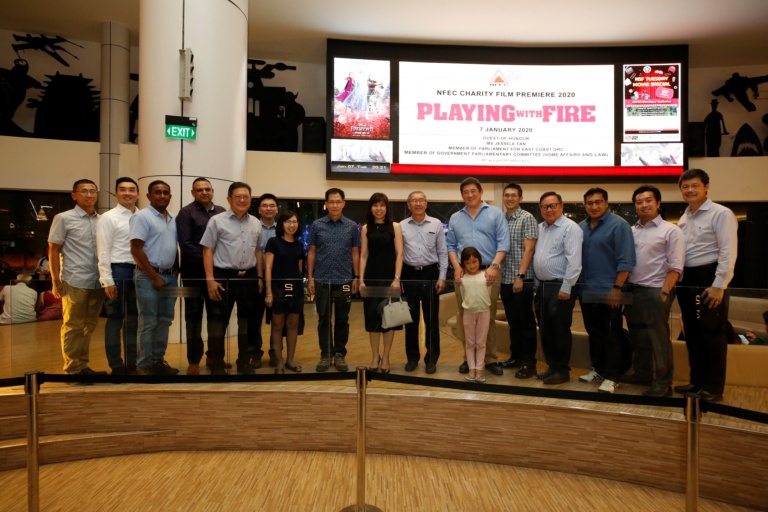 The National Fire & Civil Emergency Preparedness Council (NFEC) will be holding its Charity Film Premiere to raise fund for its various fire safety awareness and civil emergency preparedness programme. Association of Company Emergency Response Teams (Singapore ) (A-CERTS) is one of the supporter for this event.
The Premiere was held on Tuesday, 7 January 2020 at 8.45 pm at Shaw Theatres Lido 1 at the Shaw House, 350 Orchard Road.
The Guest-of-Honour officiating the Premiere is:-
Ms Jessica Tan
Member of Parliament for East Coast GRC
Member, Government Parliamentary Committee (Home Affairs and Law)
*The content above remains the sole property of A-CERTS. No part or in full shall the content be used without written permission from A-CERTS.